Loveless: Volume 1 is the first in an ongoing fantasy manga by Yun Kōga. It is serialized in the Japanese magazine Monthly Comic Zero Sum by Ichijinsha and collected in twelve tankōbon as of December 2013. Kōga plans to end the manga at fifteen volumes.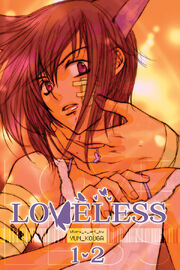 A version of Volume 1 was published that bundles together Volume 1 and Volume 2 in one book.
Ad blocker interference detected!
Wikia is a free-to-use site that makes money from advertising. We have a modified experience for viewers using ad blockers

Wikia is not accessible if you've made further modifications. Remove the custom ad blocker rule(s) and the page will load as expected.