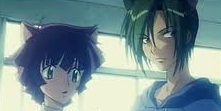 Breathless is the unit consisting of the fighter Ai Myoujin and sacrifice Midori Arai.
Background
Breathless first appeared after being sent after Ritsuka Aoyagi. They were foiled twice by Soubi.
Trivia
Midori and Ai were seen in an extra chapter and discussed getting married in Hawaii one day
In the anime, Ritsu Minami denied having been the one to send them after Ritsuka by saying that he only 'loaned them out'
Ad blocker interference detected!
Wikia is a free-to-use site that makes money from advertising. We have a modified experience for viewers using ad blockers

Wikia is not accessible if you've made further modifications. Remove the custom ad blocker rule(s) and the page will load as expected.